Travel Agency Audit Report | Importance Of Travel Agents Audit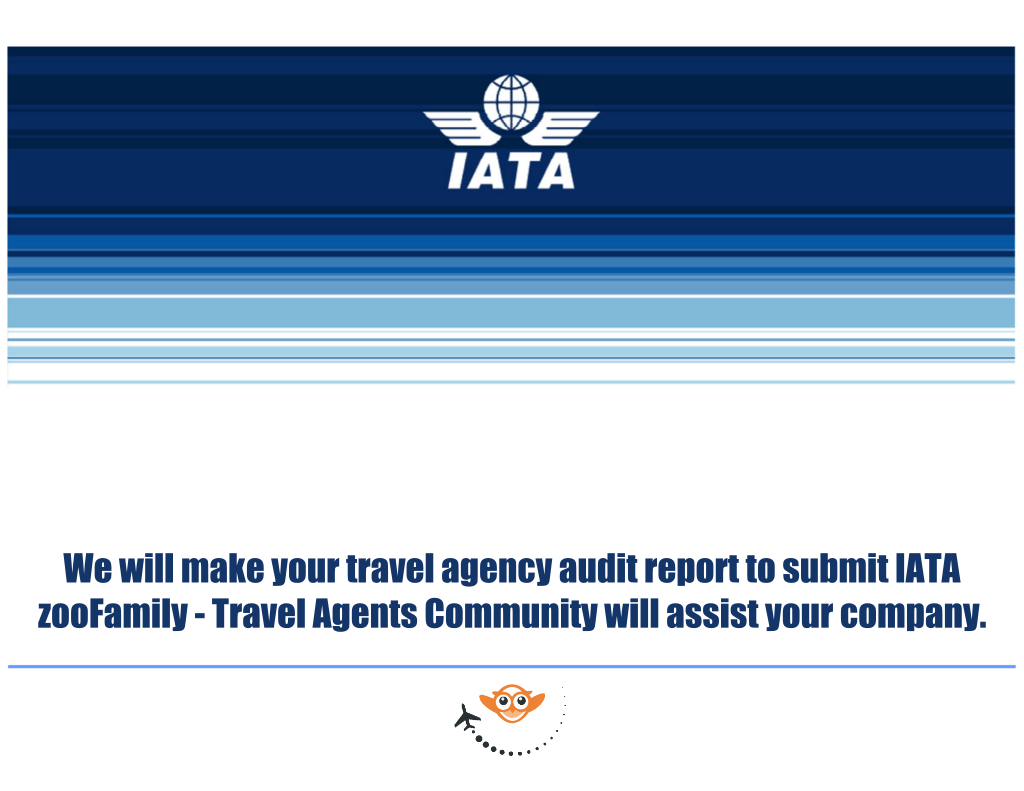 Travel Agency Audit Report needed for many purposes. Our zooFamily Travel Agents community will help you to make your business audit.
Today, accounting is recognized as an information system and is designed to communicate the right information to internal as well as external users. Accounting involves recording, classification, and summarizing the accounting information directed toward the determination of the financial strength and weakness of a travel agency.
To manage a travel agency/tour operator profitably demands accurate recording and preparation of financial statements. These are essential in determining the true and fair status of the business and for making strategic plans and decisions
The basic objective of accounting is to ascertain the profitability and finance position of a travel agency operation. To achieve this, every travel agency prepares the following  journals and statements:
Sales Journal
Cash Receipt
Account Receivable
Cash Disbursement
IATA ledger
Pay Roll
General Ledger
Profit and Loss Account
Balance Sheet
Key Features

The program includes –
BSP& Supplier Bill reconciliation.
Daily sales report Check.
Appropriate daily audit of cash & bank transactions. (Could be done by weekly)
Reports summarizing daily expense memos.
Create monthly Profit or Loss statements.
As per monthly close, generate yearly final statement.
Sale Journal

In this journal, all credit sales are recorded. Sometimes, a travel agency provides extends credit facilities to its B2B or B2C clients. However, it has been noticed that only large-scale travel agencies can afford to extend credit to corporate customers. To maintain the up-to-date record of all credit sale, travel company prepare a sales journal.

Cash Receipt Journal

A Cash receipts journal is a specialized accounting journal and it is referred to as the main entry book used in an accounting system to keep track of the sales of items when cash is received, by crediting sales and debiting cash and transactions related to receipts.

Cash Disbursement

A cash disbursement is the outflow of cash paid in exchange for the provision of goods or services. A cash disbursement can also be made to refund a customer, which is recorded as a reduction of sales. Yet another type of cash disbursement is a dividend payment, which is recorded as a reduction in corporate equity.

IATA Ledger

The IATA ledger is known as 'Chief Book of Accounts' and is the destination point of entries made in the journals or sub-journals. It is used to balance the accounts of the travel agency. In accounting, 'Balance Account' means continuous and consistent check and verification of the accuracy of a travel agency's accounting system.

The main objectives of IATA ledger are:

Identification of travel agencies revenue sources.
Determination of total sales (cash and credit).
Determination of total commission earned by the travel agency.
Find out the total amount owned to IATA.
Evaluate the performance of each travel agency ( which is recognized by IATA).

The procedure of posting IATA Ledger is very simple and easy to understand. Today, almost every travel agency is using Electronic Data Processing System (EDP) to maintain an up-to-date record of each cash as well as credit card transactions.

The procedure of posting Cash and Credit Card Transaction in the IATA Ledger is:

Enter the date, items, and invoice number.
Enter the gross amount of cash and credit-card transaction.
Calculate the commission and enter in the agency commission column.
Subtract the commission form the gross sale and enter the result in the Net Amount column.
If any amount is due then record it in the due column.

Pay Roll Journal

In this journal, a travel agency maintains the record of salaries and other benefits (financial) given to its employs like the number of employees on the payroll, total salaries, insurance premiums, compensations, housing facilities, medical facilities and other benefits to the employees.

For your yearly audit report, you may WhatsApp us +8801978569299 or order your services from here.

Travel Agents Accounting System

Travel Agency Accounting System to facilitate travel agent and tour operators specifically for ARC and IATA reporting. Basically, an accounting system is designed to record the agency's assets, liabilities, capital, revenues/income/gains, and expenses or losses etc. A brief discussion of these follows:

Assets

Assets are economic resources which are owned and used by the travel agency and are expected to benefits in future operations. Hence, assets can be expected eventually to increase the cash inflow of the travel

Current assets
Fixed assets

Liabilities

These are the claims against travel agency assets. Practically, liabilities are future sacrifices of economic benefits arising agency's debts to transfers assets or provide services to other as a result of past business transactions. These are of two kinds

Current or short period liabilities
Long-term liabilities

Capital

Capitals represent the amount of paid or contributed by owners, shareholders to the agency. More precisely

Capital = Assets – Liabilities

It is equal to the difference between the values of what is owned by the agency and the value of what is owed by the travel agency. Capital represents the net worth of the agency to owners.

Income/Gains

It is the monetary value of goods and services sold by the travel agency such as the sale of the tour, airlines commission and interest received etc.

Expenses

Expenses represent the cost of doing travel agency business. Basically, expenses are included in it like as salary, administrative expenses, financial and legal expenses etc.

Financial Statements

Financial statements are the formal output accounting system and are prepared to provide accurate, timely understandable, objective and comparable accounting information to the users.  All Travel agency carries a high transactions, And transactions means opportunies. But its rare to grab the opporunies with all transactions. Because every transaction need a proper explanations as well. So how you do this business with all transaction and thats requiere financial advisor.

Financial Advisors

These advisors make their living by advising clients how and where they should invest their shaving. However, before they offer any advice they need financial information about the company which they may recommend to invest money.

Government

The financial statements valuable information to an authority for the determination of tax liability. Government act as a base for farming and amending the regulatory structure of travel agency business.

Tax File Creation As Per Finacial Statement

The financial statements statements provide valuable information to an authority for the determination of tax liability. As per Government act you have to pay your business income tax. If you do this in every year than you are safe. After all audit our team will help your company to create this tax flie.

Importance Of Travel Agents Audit

An auditing service is very beneficial to have, especially when starting a new business. It is essential to ensure that travel businesses with all the required guidelines and standards and that your financial statements are accurate and verified. An audit also includes auditors gaining an understanding of an entity's internal control as it relates to financial statement reporting.