Description
We Provide Travel Business Training, Courses, And Consultancy
Consulting is the process of helping clients solve their most pressing business problems or issues. A consultant is a person who's an expert in a particular field who gives professional advice to individuals and businesses in their area of expertise. Many people need this consulting because the travel business has two parts, one is travel inventory which is connected with IATA and airline inventory. Another part is the technology which is connected with API, and everything is connected with an OTA. So before an investment people need to understand the business module, and that's the reason they require a consultant. We provide Premium Traveller Consultancy | Travel Business Consultancy (OTA + IATA) | Air Ticketing Courses with IATA-approved ID Card | IATA Online Courses.
INTRO OUR CONSULTANT:
Our consultant is Muhammad Luthfe Ali, a passionate traveler, and entrepreneur. He has chosen his profession in the travel business category with passion! This person holds multiple IATA-accredited travel agencies called Travelzoo Bangladesh Ltd. and Airways Office. He is also working with travel technology and solutions; this is a travel software company called zoo Travel Technology Company. Which is a member of BASIS (Bangladesh Association of Software and Information Services). This person has been working with those companies, and with his OTA software, people could develop their careers in the aviation and travel industries.
However, the "zooFamily" organizers are Travelzoo Bangladesh Ltd., Airways Office, Travel News Bangladesh, Airlines Office, and zoo Travel Technology company. But Muhammad Luthfe Ali is the key person who holds all the companies in all ways and he is the founder of zooFamily. He has more than 10 years of experience working with travel inventory and technology businesses.  His training and workshops create value for developing your travel business and career. His search engine allows for finding the best travel deals from many online travel suppliers, hotels, and airlines.
He is the Top seller on Fiverr and sells OTA (Online Travel Agents) solutions globally. A simple person can buy this OTA software and run his travel business from any country. He believes the best part of life is touching another person's life. That's the reason he works with the aviation and travel industry! You may follow his Facebook | Instagram | Linkedin | Youtube.
Why I am working as a Premium Travel Consultant?
I choose my profession with proper planning! If you read you get knowledge, and knowledge is a powerful element to earn money! And money makes you so powerful; that you don't need other people. Believe me, life is beautiful when you generate money virtually and travel the world physically! Powerful citizenship or passport; is not as powerful as money! So I always suggest earning virtually and traveling psychically. I will be your travel consultant and help you to achieve your traveling deals.
I have traveled 6 continents and more than 50 countries around the world with a Bangladeshi passport. You know Bangladeshi passport ranking where we don't get many on-arrival visas. So it's a challenge to travel around the world with a weak passport. I am an IATA-approved travel consultant; who assists many travelers globally. If you are a frequent traveler or company, and you spend a lot of money on your flights, hotels, and tour booking; then I am the person who will save you a lot of money as a travel consultant.
Virtually I provide this travel consultancy around the world, which helps a traveler in many ways. With my passion (traveling) I choose my career; where I will save you a lot of money, time, and effort. My company will be your lifetime corporate travel consultant for only 50$ (5000 BDT). And globally I will provide the service with a B2B price, I believe with my corporate travel consultancy subscription you can save a lot with B2B deals. I will assist you in saving your traveling money & plan for your lifetime. As an IATA-approved consultant, I always try to maintain global standards. For details, you may look at my service and reviews: https://www.fiverr.com/zoofamily
Why does a person need OTA Consultancy?
OTA (Online Travel Agent) solution is a unique product so a person needs to know about the OTA functions and features. Even APIs-related difficulties and questions could be raised. And all the answer providers are highly professional in the travel business. In OTA business operation every dot is connected to every dot, so to understand business module and functionality a person need OTA consultancy. Our OTA consultancy price is 50$, and after completion of consultancy, we will provide you GDS Air Ticket Booking Course, which will help you to understand the GDS Booking System. 
Online Travel Agent (OTA) Business Consultancy, You will know:
What is an OTA?
How does an OTA work?
How does a traveling inventory work with an OTA?
How does OTA Work with travel API?
Which API you should choose for your travel business?
How you should build your career in the aviation and travel industry?
Who can help you to make an online travel agent?
How to generate passive income from the global travel market?
How does an admin panel work and how you should operate it?
After consultancy, we will provide a GDS Air Ticket Booking Course.
4 types of booking panels we can create. Those are:
Flight
Hotel
Tour (Including Hajj & Umrah)
Visa
We have 3 packages for your OTA development. To know more, click our packages:
How do I create my OTA or travel portal website?
To create a travel booking website, you need to mind the following requirements:
Purchasing a domain name or sub-domain.
Choosing a technology partner that will power your site.
Selecting booking APIs; If you choose Whitelabel, then you don't need any APIs.
Order your OTA and be concerned about your business.
Here Are Some Points You Have To Consider When Starting An Online Travel Agency.
Register the name of your agency and, if applicable, take a license as per your local laws.
Try to tag an IATA member or a travel agent who has travel APIs & IATA.
Gain more knowledge about the travel industry, particularly the nice you want to concentrate on.
Get your travel website designed by a professional company like zoo Travel Technology (Which has in-house travel inventory & technology).
Do marketing with different offers & deals that suites on your business terms.
Utilize the power of tactics as per your business modules.
Create a good social media presence and brand.

 

Why does a person need IATA Consultancy?
IATA (International Air Transport Association) represents and serves airlines with advocacy and global standards for safety, security, and efficiency and helps formulate industry policy on critical aviation issues. IATA Consulting will help you optimize your travel business, improve customer service, reduce costs, and increase profitability. ​IATA Consulting has comprehensive experience in the full array of business challenges facing the aviation sector. With IATA accreditation you can reach the highest level of profit. Our IATA consultancy price is 70$, and after completion of consultancy, we will provide you GDS Air Ticket Booking Course, which will help you to understand the GDS Booking System.
IATA Business Consultancy, You will know:
What is an IATA?
How does an IATA work?
How does a traveling inventory work with Airlines and IATA?
How does the BSP link work and travel agents pay to IATA?
Which IATA package you should choose for your travel business?
How you will be a member of IATA?
How you will get an IATA ID card?
Who can help you with your IATA membership?
How to generate passive income from the global travel market?
How IATA works and how do you operate the IATA with your business?
After consultancy, we will provide you with "GDS Air Ticket Booking Course and GDS Booking system.
(The consultancy is between 1 – 2 hours, Before an investment, our consultant, will help you to make a wise decision)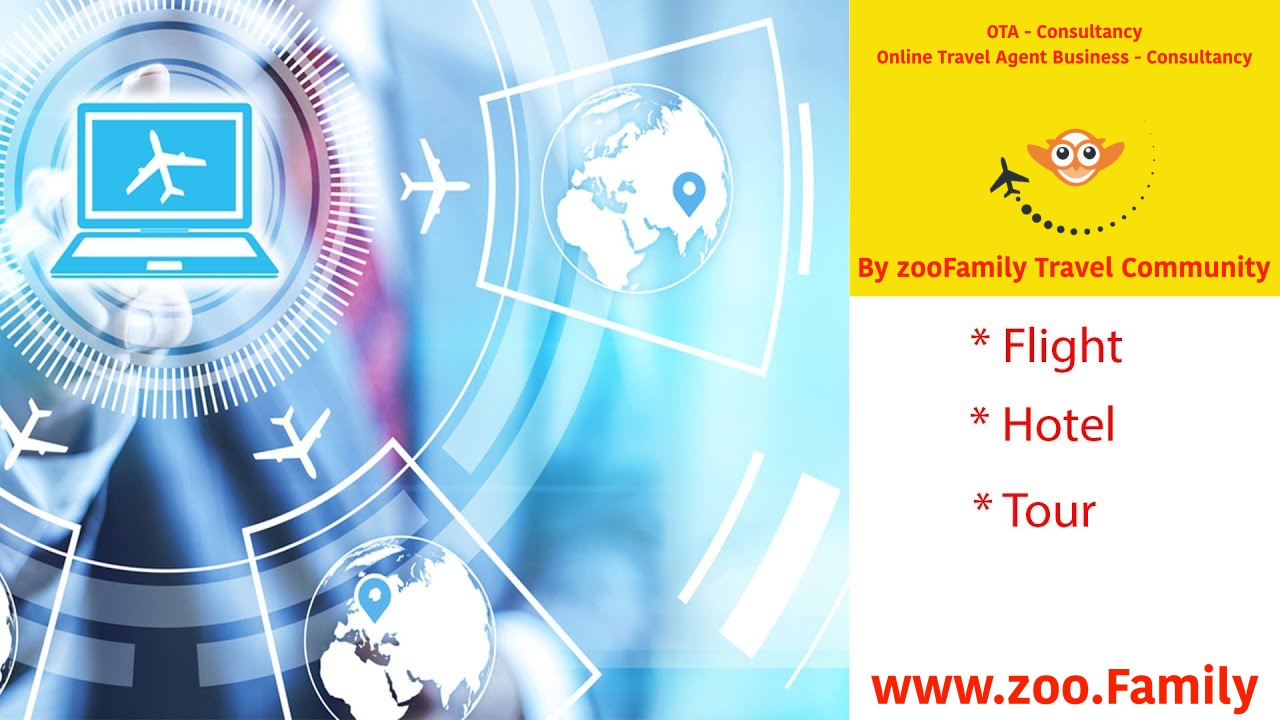 Why do you need an Online Travel Agency (OTA)?
Working with an Online Travel Agency (OTA) not only helps you reach globally but also allows you to earn money with an OTA business module (B2B and B2C). With a few clicks, your B2B & B2C customers can search for Flights and Hotels from your OTA portal. In fact, a travel agent can integrate their travel API into the system,  Which means by OTA a general person can do business without IATA And Civil Aviation.
How Online Travel Agency (OTA) work?
An Online Travel Agency (OTA) is a web view API-based software where few developers built software with a business module. where you can find a few operational systems like – price markup, CRM automation, own payment gateway, and more. OTA works with Airlines API, Travel Agents API, Hotels API, and GDS API connectivity and by an OTA you can earn passive income. Our demo could help you to understand more clearly how OTA works, here is a demo: https://demo.zoo.family
OTAs compile their rich inventories by connecting to different partners via APIs – pieces of code facilitating the communication between different software systems. Who are those partners? In answer, the partners are Travel Agents | Airlines | Hotels | Global Distribution Systems (GDS), and technology companies.
Why I am working

as a Travel Business Consultant?
If you understand the color of money you will see life differently; that's the reason we all work! In today's world we are losing the real money touch, all money works virtually. This means money is connected virtually around the world with local & international payment gateway; only you need to understand the solution. I mean the objective is really important to understand a travel business module. In the travel business operation, a lot of people fail because some people's money flow is so strong; others don't exist without a strong solution! And the travel business has various solutions like flights, hotels, tours, visas, etc.
To understand these APIs and OTA solutions you need a travel business consultant. That's the reason I am working as a travel business consultant. Before starting an investment you should take this travel business consultancy; this travel business consultancy is a unique inspiration to work with the aviation and the travel industry. Our OTA Consultancy will help you to make an online travel agent and OTA portal. You can make money with an OTA – Online Travel Agent portal. Where you can integrate your own GDS, Other Travel APIs, CRM, Accounts, and more. Most important you can customize your OTA as per your wish. So the most important before starting a travel business is you must take an OTA Consultancy.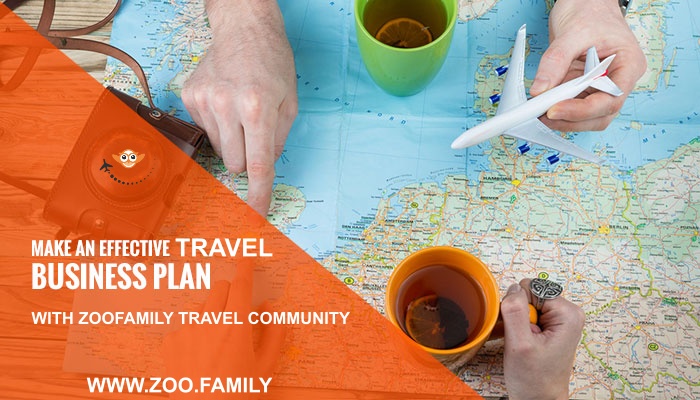 10 Important Decisions To Make an Online Travel Agency Or OTA
1. Cost To Build An OTA or Online Travel Agency
As a travel agency business owner who wants to lead the travel and tourism market, the first question that comes to your mind is how much travel website development costs. However, this is a question that can't be answered by any travel portal development company outrightly. There are various factors that they need to consider before they arrive at an estimated price for developing your travel website. As a community of the aviation and travel industry, our recommendation is: zooIT travel API expense is very affordable, Like 650$ to 3500$.
2. To Understand The Business Module
Travel business owners have a choice to select either the Business to Consumer Model or the Business to Business Model. If you want to make both B2B and B2C you have to maintain your client in a different strategy with a markup policy or you have to set up 2 systems with different markups. Like: Flight.zoo.Family or B2B.zoo.Family
3. Integrate booking engines and third-party APIs
Booking engines are travel agency software tools for making online reservations directly from a website. It allows users to check availability, make reservations, pay online, and receive a confirmation email. In your existing booking engine, you can integrate 3rd party APIs.
4. Features, Functionality & Currency
The most important factor in deciding the cost of your travel website development is the functionality and features that go onto your website. A travel portal with basic features would obviously cost less than one with advanced features. B2B and B2C operational module system, markup system, CRM system, admin dashboard, etc. Another important thing is which currency you may allow to see your customers and how they will pay. The simple is that your developer will help you to build as per your wish.
5. Development Time
The complexity decides how much time the developers will take to build a travel website for you. Naturally, the more features and the higher the complexity the more time it would take for them to design the website. The cost of development is therefore directly proportional to the development time. But To make our system we have taken 2 years and many developers. After that, software features have been updated with their necessity and requirements.
6. Reputation Of the Company
The cost also depends on the type of travel portal development company you are hiring and the experience of the development professionals. A reputed company that has immense experience and a good client portfolio is preferred by every travel agency. With a better quality of service and a higher number of successful project completion, comes a higher cost of development. We prefer those company that has in-house travel API, Travel Agency Business, and Technology Team.
7. Security of Travel Portal
Customers trust websites that are secure from all kinds of threats and scams. Therefore you need to get enhanced security for your travel website. A travel portal development may charge you additionally to enable 3D verification codes and captchas.
8. Payment Gateway Integration
Integrating secured payment gateways helps customers trust your travel website in sharing their personal and payment information without worrying about their information being compromised. As per an experiment by Kayak, removing the SSL/TLS encrypted message resulted in a decrease in bookings. Therefore, integrating multiple payment gateways with the travel website influences the cost of development. You can choose any payment gateway as per your wish and your technical support team will help you to integrate it into your website.
9. User-Friendly & Dedicated Support:
Choose a user-friendly OTA system where travel agent users can operate the system from Desktop, Mobile, and APPS. A user-friendly system could make the business owner more profitable. Many OTAs support their partners' success through regionally-based account teams. These individuals have extensive market knowledge, can share insight on regional trends, and advise on tactics that will help drive business success.
10. Source Code:
Do you really need source code? Actually, it depends on the buyer and seller agreement. Usually, no software companies provide source code. If they provide the source code then it will be encrypted for security purposes. Because a software company builds the software with a huge investment, so usually they don't sell the software. You may take with your software company what they allow to provide source code, but usually, no one provides the source code. Actually, it depends on your software company. But my personal recommendation is: "Don't go for source code until you have a plan, investment, and in-house developer team". After purchasing a source code you need a few high-tech developers to run the software as well marketing team and resources.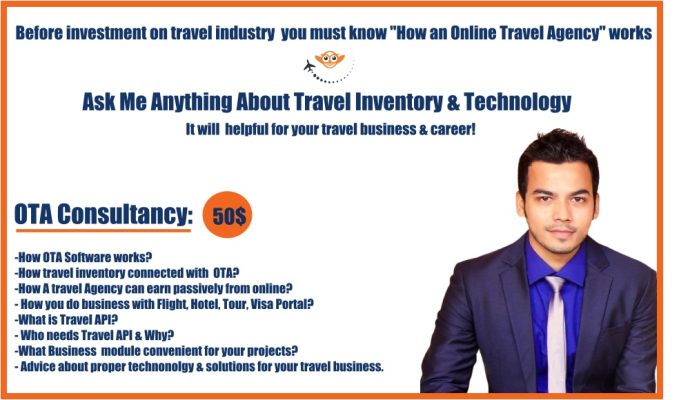 With this consultancy, you can learn perfect travel business knowledge with IATA & OTA. There is a lot of question regarding starting a business, especially the travel business requires a lot of technical knowledge. So before investing in the travel business, you must know how it works. In the travel business, there are many categories to choose option (Like Flights, Hotels, Tours, and Visa Assistance), the fact on how you operate your business. Our Travel Consultant will help you to make an online travel agent (OTA). Where you can integrate your travel business APIs. Most important you can customize your OTA as per your wish. An IATA Consultant will help you regarding IATA membership.
Travel Business Consultancy Assitant WhatsApp:+8801978569299 | Travel Business consultancy Time: 60 min