Earn The Money With Travel Industries | Invest with Travel & Tourism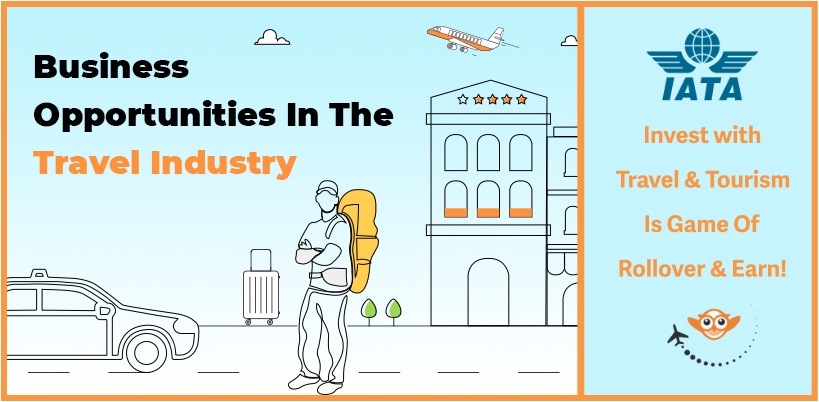 Invest with Travel & Tourism | Earn The Money With Travel Industries
Most consumers are familiar with the travel and tourism industry from using its services. Here are 5 ways to invest in travel and tourism companies.
1. Investment In
IATA Travel Agency
First, you have to choose a travel agent who is a member of the International Air Transport Association (IATA). Make deal with the owner of the travel agents. If the owner agreed with a good deal, then you may start your business as a partner. Recently, from Bangladesh Travelzoo Bangladesh Ltd. & Airways Office provide that kind of investment facilities.
Here are the details of how you invest International Air Transport Association (IATA) with a travel agent:
Make an FDR (Fixed deposit) in your name, Enjoy Fixed Deposit interest from the local countries bank. And ask your bank to issue a bank guarantee for International Air Transport Association (IATA) on behalf of the travel agents name.
And against your bank guarantee, take the IATA portal access to follow your money rollover. It's a game of money rollover game, so you must enjoy the "money rollover game" with profit.
Here you will earn in 3 ways: you will enjoy the FDR interest from the bank, and you have the cash where your travel agents do the business with the bank guarantee. So you can utilize the cash when you are a partner of travel agents. And from air ticket sales you can earn the money with your travel agent.
All those initiatives will create your money more valuable with the proper utilization. For details, you may contact Airways Office Travel Agent Bangladesh.
2. Start Online Travel Agency (OTA)
As with many industries, revenue continues to shift to the internet when it comes to providing travel and tourism services. Stockbrokers have been replaced in large part with online travel platforms. Online websites allow consumers to shop for low prices and convenient schedules. And a user or traveller use the OTA for air ticket or flight booking. The whole system creates by Airlines API, GDS API, Hotels Supplier API, And included various travel API. It depends on the business operations module where travel inventory is connected with travel technology and solutions. It's a very different and wise place where you can roll over your money, And you can earn the money by creating a travel brand. For the details contact with zooFamily – Online Travel Community.
3. Start A Hotel Booking Websites
The hotel industry is dominated by a couple of leading international brands or hotel suppliers. Nowadays suppliers do business by "Hotels Supplier API" which is a system to book the hotel from online hotel portals. If you use you want to do this business you may connect with the travel technology team zooIT. They will help you to make a hotel booking website, And with this website, you can earn money globally.
4. Be A Travel Assitance
Travel assistance, earned by Holiday Packages & Tour, Visa, Air Ticket, Hotel Booking assistance. Travel assistance sells all the products with a commission module. It could be offline or online, Everything depends on the travel business module. Travel assistance can use other travel agents B2B platforms. Travelzoo Bangladesh Ltd. is a company that provides B2B travel I'd. With that Travel B2B Id or portal, you can earn the money from the global travel markets.
5. Working As A Travel Technology Company
To be a travel technology company need so much money. Because Travel API is very expensive and implementation of API is expensive as well. If you want to be a certified travel technology company then it requires not only money but also works. So for this business, you required quality, high technical employees and a team. And obviously a high budget investment to buy Travel API, Implenataion cost, Certified Developer cost and many more. For any kind of help zooIT (Travel Technology Company) will assist your quarries.
Tourism is Trade. It is also Economic Vitality and it is Economic Development. Tourism requires Travel for the exchange of trade – dollars earned in one community and spent in another. Tourism is Everybody's Business. It touches every occupation and every business. So it's the best place to invest in the travel & tourism sectors.
For wise investment call or WhatsApp: +8801678569298