Cheap Flights from Dhaka to Dubai
Dhaka to Dubai Flight | Buy Cheap Air Ticket From Dhaka, Bangladesh
Every year, thousands of travellers come to Dubai for both work and pleasure. Pack your luggage, make a sightseeing list and book your trip to Dubai with zooFamily – Travel Agents Community right away! Once you've decided what to do in Dubai, you may book ahead of time at Travelzoobd for the best possible travelling experience. The most efficient strategy to ensure that your entire trip goes smoothly is to plan ahead of time. Travelzoobd will be there for you every step of the way on your trip to Dubai, whether you need assistance choosing the ideal restaurant, selecting the best spots to enjoy local specialities or discovering the most breathtaking vistas in the city has to offer.
Air travel is one of the most convenient ways of transportation. It's risk-free, fast, and pleasurable. By air, all of the major cities are well connected to one another and the travel time between them has been reduced to only a few hours. Formerly, one of the most stressful aspects of flying was the ticketing procedure. Digitalization has made this procedure simpler. Travelzoobd goes a step further to make ticket booking as simple, convenient and stress-free for its customers as possible.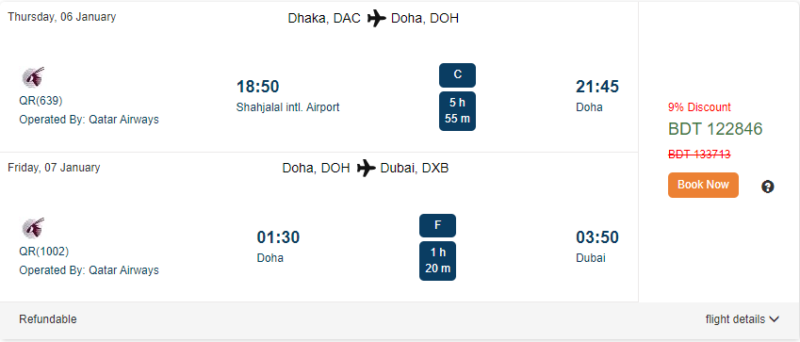 If you wish to go from Dhaka to Dubai, you should choose the air route. Here's all the information you need to know about it. Between Dhaka and Dubai, four airlines provide service. They are: Turkish Airlines, Emirates Airline, Oman Air and Qatar Airways. The cost of a flight from Dhaka to Dubai is at least 132000 bdt. This might reach 329684 bdt. There's no need to be concerned because many foreign travel routes, such as flights from Dubai (DXB) to Dhaka (DAC) and Dhaka to Dubai, provide a wide range of overseas airline deals and cashback possibilities. Customers of Travelzoobd enjoys a stress-free travel experience. With its PNR status check, Web check-in function and customer service, you may be assured of a pleasurable flight. So book a flight and relax while we take you to your desired location.
Call or WhatsApp For Booking Assistance: +8801978569294
"zooFamily – Travel Agents Community" are selling cheap air tickets from Bangladesh. They are doing business with B2C & B2B modules. So if you want the best price and deal follow the tips:
Note: Travelzoobd's website, https://flight.zoo.family/, displays pricing (per person) for a range of dates so you can quickly discover the best flights.
Top tips for finding a cheap flight
On average, the cheapest flight from Dhaka to Dubai was found 46 days prior to departure.
Book at least 4 weeks before your trip date to get a better deal.
The months which are believed to be high season are: July, August and September.
A morning flight is around 26% less expensive than an evening trip.
Visit zooFamily – Travel Agents Community website and buy air tickets or  Download their mobile APPS:  Android & Apple.
FAQs for booking flights from Dhaka to Dubai
What is the duration of the flight from DAC to DXB?
With a period of four hours and 50 minutes, Emirates presently holds the record for the shortest trip time. If you left Dhaka at 1:40 AM +06, you would arrive in Dubai at 4:30 AM +04. Keep in mind that there is a two-hour time difference.
Is it possible to modify my flight date?
Yes, you have the option to change your departure date. If you want to save some money on your flight, Wednesday is the cheapest day to fly in December. When booking, being flexible with your trip dates might save you money.
Which airlines travel from Dhaka (DAC) to Dubai (DXB) the most frequently?
Turkish Airlines, Emirates Airline, Oman Air, and Qatar Airways have flights from Dhaka (DAC) to Dubai (DXB).
How many flights are there between Dhaka and Dubai every day?
The number varies by day, but when you book, you can expect seven distinct flight options on average.
How much does a flight from Dhaka to Dubai cost?
The cheapest flight from Dhaka to Dubai is 132000 bdt with Qatar Airways. Book your flight on Travelzoobd now!!
Related Post: Airways Office | zooholiday | Travel News BD | zooIT | zooFamily