SriLankan Airlines Dhaka Office Bangladesh
SriLankan Airlines was established in 1947 and commenced operations on 1 September 1979 which is the flag carrier of Sri Lanka. SriLankan Airlines headquartered in Colombo 01, Sri Lanka
Happy Arcadia Shopping Mall,
2nd Floor, suite:#34, Holding:#03,
Road:#03, Dhaka 1205
Email: airwaysoffice@gmail.com
Call for Air Ticket: +8801978569294, 95, 96
It's an authorized sales office, which opens from 10.00 am to 8.00 pm (7 days)
Call for Air Ticket: +8801978569294, 95, 96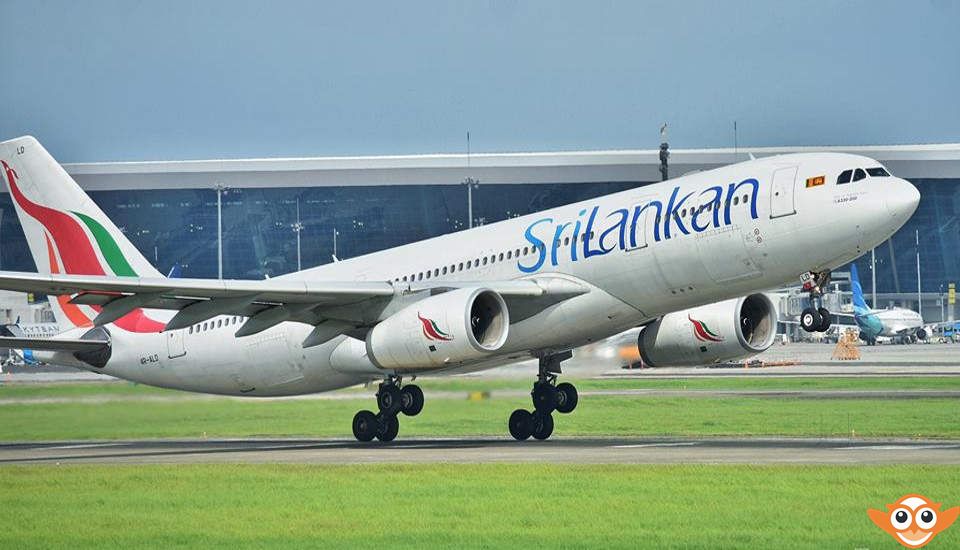 SriLankan Airlines Dhaka City office Address:

No 20 Kemal Ataturk Av,
Banani C/A, Dhaka 1213,
Bangladesh.
SriLankan Airlines City office telephone contact numbers:

88029820396
+88029820397
Email: dacres@srilankan.com Fax: 88029892623
Working hours
Sunday to Thursday (09:00 to 17:30)
Saturday (09:00 to 13:30)
About Srilankan Airlines
SriLankan Airlines was established in 1947 and commenced operations on 1 September 1979 which is the flag carrier of Sri Lanka, is an award-winning carrier with a firm reputation as a global leader in service, safety, reliability, and punctuality. SriLankan Airlines headquartered in Colombo, Sri Lanka. The airline's hub is located at Bandaranaike International Airport in Colombo, providing connections to its global route network of 99 destinations in 47 countries (including codeshare operations) in Europe, the Middle East, Southeast Asia, North America, Australia, and Africa. SriLankan Airlines joined the Oneworld airline alliance on 1 May 2014 as the first carrier from the Indian Sub-continent. As a member of SriLankan's FlySmiLes program, you can earn mileage rewards and tier status points every time you travel on eligible Oneworld partner flights.
Srilankan Airlines Baggage Allowance

As per SriLankan Airlines baggage allowance rules, Economy Class passengers are permitted to check-in 30 kgs of luggage. First and Business Class travelers are allowed to carry 40 kgs of check-in baggage. The dimensions for the baggage should not exceed 158 cms for all three cabin classes.
Types of Planes / Aircraft available
Total fleet: 20
Queries handled by Customer care:
Flight Ticket Booking,
Ticket Cancellation,
Flight Ticket Rescheduling,
Ok to Board,
Visa Services,
Online Check-in,
Baggage Allowance,
Duty-Free Allowance,
Flight Information,
Airport Lounges,
Visa Information,
In-Flight Meals,
Airport Transfers,
Missing Luggage,

Immigration Services,
Valet Parking,
Meet and Greet,
Flight Wifi,
Airport Wifi,
In-Flight Entertainment,
Airport Facilities,
Delayed Flights,
Visa on Arrival,
First Class,
Business Class,
Economy Class,
FlySmiles
How to do Online Check-in:
Online check-in is the process in which passengers confirm their presence on a
flight via the Internet and typically print their own boarding passes.
options and baggage quantities and select their preferred seating.
Check-in is available from 1 to 30 hours prior to the scheduled departure of domestic flights
Use their mobile website or new mobile app to check-in and get your e-boarding pass.
Check-in online and print your boarding pass or get a voucher to be exchanged for your boarding pass at the airport.
Find Reservation:
Srilankan Airlines Dhaka Office Bangladesh you can check your air ticket before you Fly and make sure is your ticket is confirmed! If you wish to view the details of your reservation,
Please enter the reservation reference or PNR and your last name of yours from the reservation.
After submitting the information you may view and save your reservation.
Book add-ons and change flight and Enter booking Reference and First and the Last name.
Ensure that your name format is the same as entering your booking.
HOW I BOOK CHEAP FLIGHTS AND HOTELS?
Airlines GSA or PSA never offer discounted ticket prices due to policy. Travel agents can give you cheaper than airlines. Because travel agents can sell an air ticket with less commission or profit margin. Purchasing travel services like; Airtickets or hotel booking has been greatly simplified by online reservation services. Travelers can compare prices and routes on various airlines using online booking sites and make reservations with just a few mouse clicks. Before buying an air ticket, you could read our article: "How To Buy Airtickets". This article will help you to save your travel money.
The travel search engine that allows users to compare airlines and hotel prices and offers, specializing in low-cost. Before buying a travel service comparing cost is wise tactics that help to save money. To use these tactics you may download our Travel APPS. By these APPS you can compare hotels and airfare deals from thousands of airlines and travel agencies. Click on image to download Travel APPS.
SriLankan Airlines Dhaka Office Bangladesh Information:
There are a lot of Travel Agents selling SriLankan Airlines Tickets in the Bangladesh market. But the most reliable authorized sales agent is Airways Office.
SriLankan Airlines Dhaka Office Bangladesh Related post By:
Airways Office, zoo infotech, travel news BD, zooHoliday Zoo.Family
Other airlines related post: Air Arabia | Air Canada | Air India | Air Mauritius | Air Asia | Bangkok Airways | Biman Bangladesh | Cathay Pacific | China Eastern | China Southern | Dragon Air | Drukair | Emirates | Flydubai | GoAir | Gulf Air |Himalaya Airlines | Indigo | Kuwait Airways | Malaysian Airlines | Maldivian Air | Malindo Air | Novoair | Oman Air | Pakistan Airlines | Qatar Airways | Regent Airways | Salam Air | Saudi Airlines | Singapore Airlines | SpiceJet | SriLankan Airlines | Thai Airways | Thai Lion Air | Turkish Airlines | US Bangla Airlines | Vistara Air