Partnership with us! | Let's earn together!
The travel business has changed a lot in recent times. The travel agencies no longer just inform the customer about the availability of the flights, and their schedule, issue the ticket and get a commission from the airline. Now with the online travel agency software (OTA), customers can book the travel service. Nowadays most travel agents actually follow the OTA model. So we collected all inventory and API from the airlines, GDS, and travel agents. And we provide the travel business solutions as per your business module.
What service are you looking for?
GDS ID: Travelport or Sabre or Amadeus?
Airlines ID?
Our B2B ID?
OTA portal?
Travel API: Flight, Hotel, Bus, Tour?

"zooFamily" Online Travel Community stands on 5 pillars:
1. zooFamily – Online Travel Community is a Unity of travel business with Airlines, Hotels, Travel Agents, and Travelers. Where a person or company can earn passively through Travel or OTA software. We will set up the travel software on your domain, and you can do travel business with freedom. This is the concept of our online travel community, And we are working since 2012 with passion.
2. As an online travel community – zooFamily support you to start your travel business with our "OTA software". With this travel software, you can earn from the global travel industry. As an online travel community, we keep a minimum charge to maintain our travel software. Because we have a huge expense to maintain travel inventory and technology part. Two IATA travel agents Airways Office and Travelzoo Bangladesh support travel for the inventory part and zooIT Information Technology supports the travel technology part.
3. Our information and services create value for travellers, Airlines, Hotels, and Travel Agents. With proper digital marketing, we promote Airlines, Hotels, and Travel agent's Offers and promotions. Our Online Travel Community – zooFamily, supports your travel business with travel inventory, technology, information and services. Day by day we are trying to gather Airlines API, Travel Agents API, Hotels Supplier API, and Tour API. And the other hand we encourage everyone to earn in the global aviation and travel industries.
4. As a NON-Profitable B2B travel business module, we serve the global B2B travel marketplace with Travel-Agents, Airlines, and Hotel suppliers. And our travel community umbrella is a shade of unity for the aviation and travel industry in Bangladesh, where we support technology, information, travel inventory, and solutions. We believe the travel business is an art of best technology implementation which is connected with GDS, IATA, and 3rd party APIs.
5. We take high sales targets from airlines, hotels, and travel suppliers. And the other side we distribute targets to our business partners to earn extra incentives. Our Contribution helps to develop the aviation and travel industry in Bangladesh. And our training, workshops, software and service make the travel business easier. By using our travel software anyone can earn from the global aviation and travel industries. For the demo, you may click and check our travel software.
With our "B2B Travel Partner" module you can start a B2B or B2C online travel agency. Our team will develop your travel portal. We are "zooFamily" travel agents community in Bangladesh working with travel inventory and technology since 2012. Our organiser "zooIT" (Travel Technology Company) working with Travel API integration, development and solutions. And the hand "Airways Office" and "Travelzoo BD Ltd" work with travel inventory and API from Bangladesh.
Travel Agents or An eCommerce Company could work with us as a "Travel B2B Partner".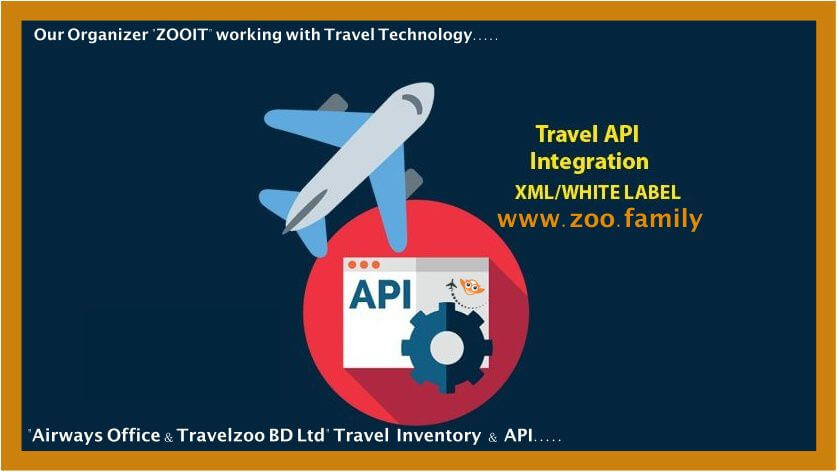 How do you make money on travel?
Travel agencies (offline and online) earn compensation through services fees paid by their travellers directly to them, through markups added to negotiated fares, and through commissions paid by suppliers for certain products or services. It is up to the supplier whether or not to pay a commission to your agency.
Metasearch engines and other consumer apps that don't process bookings can make money through distribution in the form of cost-per-acquisition (CPA), cost-per-click (CPC), or revenue share agreements with suppliers and travel agencies. They also make money through advertising.
Developers of solutions used by travel companies typically make money through licensing or transaction fees paid out by the travel agency or corporation using their application.
The main types of travel APIs and how they work
In tech terminology, the synonym for this growing connectivity is API. The application programming interface allows for connecting data streams and functionalities between different software products. APIs work as control panels for developers to link different software components without dealing with source code. What does this mean for the travel industry? If you run a hotel business, you can let your customers rent a car straight from your website by integrating your room reservation engine with available local car rental providers. This may put a car-rental commission in your pocket or just make your customer's life easier by eliminating time browsing the web to rent a car.
So, let's talk about the most important types of APIs used to unify travel industry features and information. Warning, it's going to be a long read, so you may hop to the sections that seem interesting by navigating the menu to the right if you're on a desktop.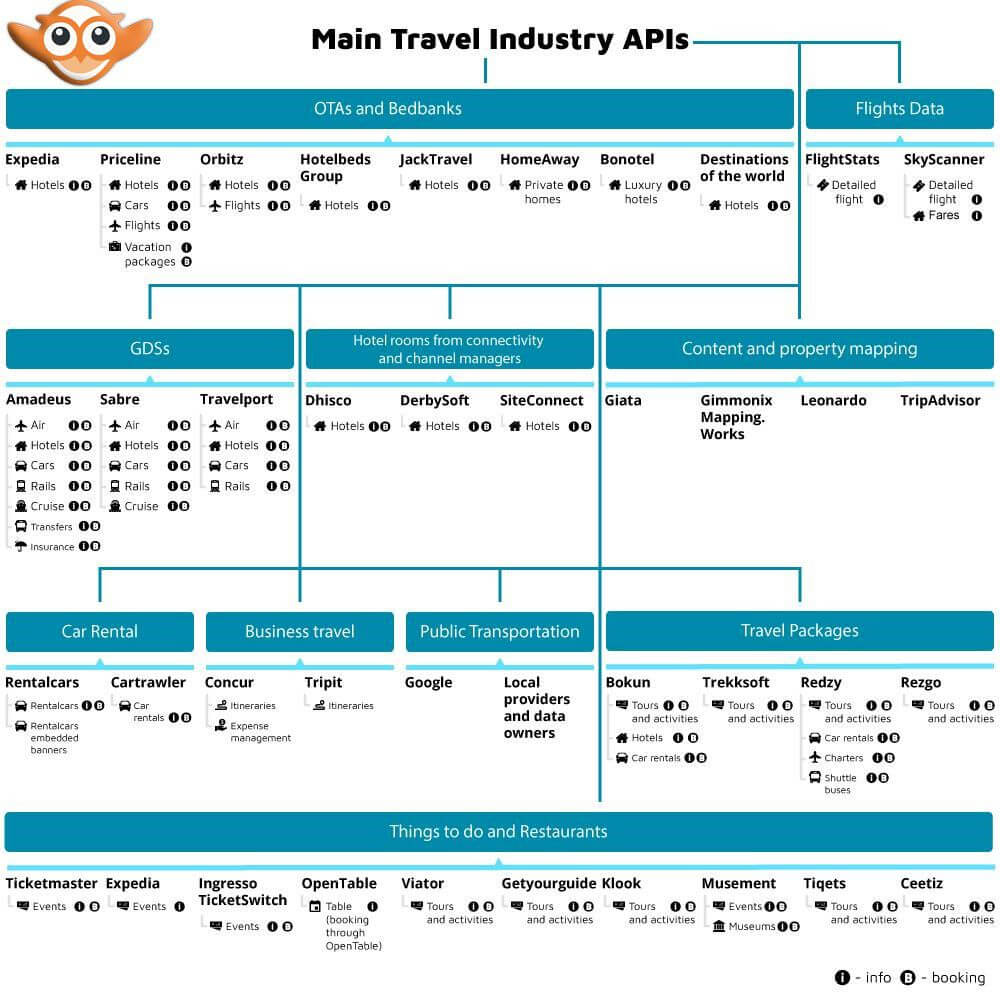 GDS systems provide the widest data coverage, while you can find more task-specific APIs from niche companies
Global distribution system (GDS) APIs:
The main data source and reservation point of contact for online travel agencies are global distribution systems (GDSs). The GDS collects and consolidates travel data from a wide spectrum of service providers and allows agents to reserve aeroplane seats, rent cars, book hotel rooms, etc. This way travel agencies don't have to directly connect with hundreds of airlines, hotels, and other end providers. They also provide APIs to integrate reservation support into OTA booking engines to let travellers book online.
GDSs mostly focus on five types of reservations:
Aeroplane seats
Hotel rooms
Car rentals
Cruise lines and ferries
Railways
Basically, there are three main GDS players on the market: Amadeus, Sabre, and Travelport. According to Sabre, these three cover 99.9 per cent of the GDS market share. And we have all most all airlines and travel agencies API. All of those make our huge resources in the aviation and travel industries.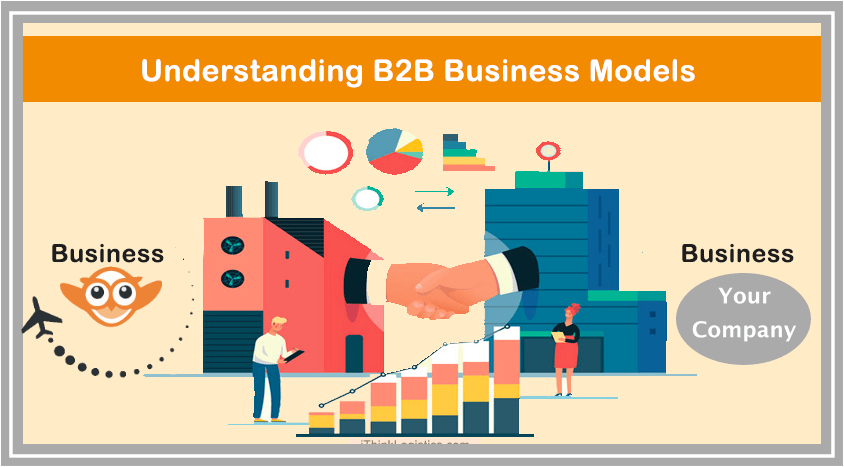 OTA Business Module:
With our "B2B Partner" module you can start an online travel agency business. You can earn through markup fares which is a system of OTA. This is a web view software for those people who want to earn from an online travel agency. Actually, this software is called OTA software, which we set up on a domain or sub-domain. We have 3 business modules OTA, those are:
3: IATA Travel Agent OTA (API Enabled)
Key Capabilities and Benefits:
Real-time access to online bookings.

Automated booking confirmation.

 commissions and markup business module.

Automated OTA software will help you to earn.

Owned secure payment gateways.