Dhaka To Hong Kong Flight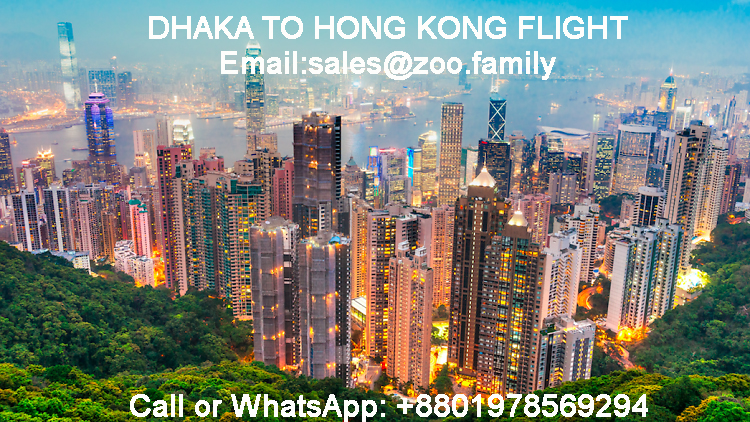 Dhaka To Hong Kong Flight
Air travel is a convenient, safe, quick, and fun mode of transportation. Moreover, Traveling by airplane between all of the main cities now takes only a few hours. Previously, while flying, the ticketing procedure was a big cause of concern. This operation, however, has gotten significantly easier since the introduction of digitization. The zooFamily goes a step further to ensure that ticket purchase is quick, easy and stress-free for its consumers. Moreover, booking a flight from Dhaka to Hong Kong has just gotten much easier. hazrat shahjalal International Airport, with the IATA code DAC, is the nearest airport to Dhaka. Hong kong International Airport, with the IATA code HKG, is the nearest airport.
Call or WhatsApp For Cheap Price:  
+8801978569294
+8801978569295
+8801978569296
+8801678569290
+8801678569291
+8801678569292
Tips to get cheap flights from Dhaka to Hong Kong



Try to book your flight at least 21 days in advance in order to some flight deals which suit your budget.
It is recommended to travel on weekdays to avoid weekend surcharges.
Avoid flying in heavy traffic by booking your flight before or after major holidays.
Check flexible travel dates to find the best flight deal.
Use CheapOair coupons and promo codes at checkout to make your ticket even cheaper.
Eight airlines provide flights between Dhaka and HongKong. However, each week, roughly 27 flights link Dhaka and HongKong.
Thinking about traveling to Hong Kong?
We can help you get there. Hong Kong is a big place and has lots of great sights for you to explore, let us help you to narrow down your options on where to go. We compare hundreds of flights from Dhaka to Hong Kong, from all the major airlines and travel agents, showing you where you can fly directly, the flight times for these options, and the differences in cost. Helping you find the best deal on flights to Hong Kong within your budget.
In addition, the zooFamily guarantees a pleasant trip experience for its consumers. So book a flight from Dhaka to Hong Kong and sit back while we take care of getting you where you need to be.
Flight from Dhaka to Hong Kong route information:
Flight Price Starts at 46000BDT
Distance:

1,507.91

miles
Airlines Serving: Biman Bangladesh,Thai Airways International, Malindo Air, Cathay Pacific,China Eastern, Malaysia Airline, Singapore Airl, China Southern
Dhaka to Hong Kong flight information:
Aerial distance: 

2,426.74

KM
Total flights from Dhaka to Hong Kong in a week: 03 flights
Popular Airlines from Dhaka to Hong Kong: Biman Bangladesh, , China Eastern, Thai Airways, China Southern,Singapore Airl
Shortest Time of flights from Dhaka to HongKong: 03h 55m
Airport codes flights from Dhaka to Hong Kong: Dhaka-DAC, Hong Kong HKG
Cheapest flight found: BDT 46000
Average flight time: 03 hrs 55 mins
The cheapest month to fly: September
Most popular airline: Biman Bangladesh Airlines
Flights per week: 03
Time difference between Dhaka and Hong Kong: +2 hr (GMT +7)



Download Our APPS For The Best Price:

Frequently Asked Questions

How many airlines provide direct flights from Dhaka to Hong Kong?

Eight airlines offer direct flights from Dhaka to Hong Kong.

Which airline offers the cheapest flights between Dhaka and Hong Kong?

The cheapest flights from Dhaka to HongKong are offered by Singapore Airlines.

How many airports are in Hong Kong?

hong kong has two airports

What is the flight time from Dhaka to Hong Kong?

 The average flight time between Dhaka and HongKong is 2 hours and 25 minutes.

Is it true that on a direct trip from Dhaka to Hong Kong, Singapore Air takes less time than other airlines?

Yes. On this route, Singapore Airlines offers the quickest flights.

Is it possible for me to bring my own food during the flight from Dhaka to hong Kong?

Yes, you are allowed to bring your own food. It should, however, be well wrapped.

When travelling from Dhaka to Hong Kong Intr Airport, which airports will I be using?

 Hong Kong Intl Airport is the only airport in HongKong, while Dhaka Hazrat Shahjal International is the only airport in Dhaka.

From Dhaka to Hong Kong, which airlines are the most popular?

The most popular airlines on the Dhaka-Hongkong flight route are Biman Bangladesh,Thai Airways International, Malindo Air, Cathay Pacific,China Eastern, Malaysia Airline, Singapore Airl, China Southern.

What are the names and codes for the airports in Dhaka and Hong Kong?

Dhaka's airport is known as Hazrat Shahjalal International Airport and has the code DAC, whereas Hong Kong airport is known as Hong Kong International Airport and has the code HKG.

Related Post: Airways Office | zooholiday | Travel News BD | Zoo Travel Technology | zooFamily | Airlines Office