Air Ticketing Course & GDS Training with Sabre | Travelport | Amadeus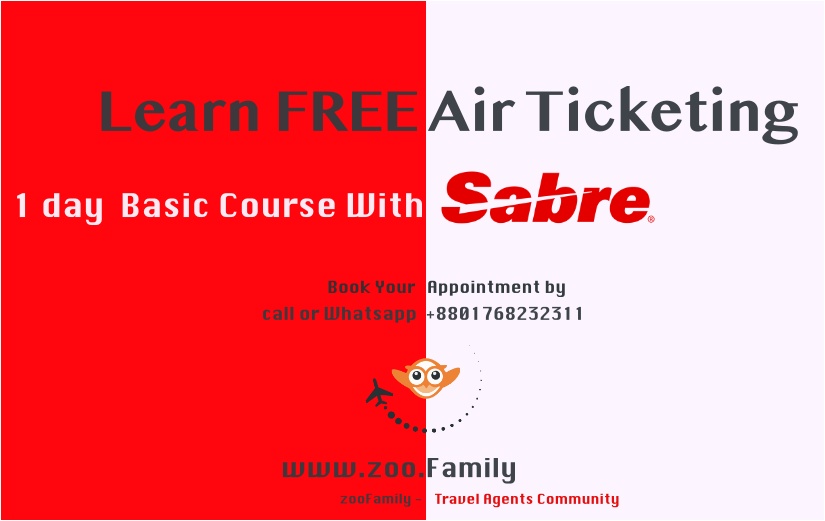 Air Ticketing Course & GDS Training with Sabre | Travelport | Amadeus
Course Duration: Up to 12 class
Study Hours: 45 hours
Workshop Hours: Approximately 145 hours
Course Outcome: you will receive GDS certification
Technical support: We will provide you with all kinds of technical support.
GDS I'D: We will provide free GDS I'd.
Learn FREE Air Ticketing with Sabre | Book Your Appointment by call or WhatsApp: +8801768232311 (1 Day)
A global distribution system (GDS) is a computerized network system owned or operated by a company that enables transactions between travel industry service providers, mainly airlines, hotels, car rental companies, and travel agencies.
What is the Amadeus?
Amadeus is a computer reservation system owned by the Amadeus IT Group with headquarters in Madrid, Spain. As a travel technology company,  we build the critical solutions that help airlines and airports, hotels and railways, search engines, travel agencies, tour operators, and other travel players to run their operations and improve the travel experience, billions of times a year, all over the world.
What is Sabre?
Sabre Software System is a network and platform that enables travel technology and their clients to access travel data, shops for and compares reservation options, and book travel. 
It is a software and technology company that powers the global travel industry. With decades of revolutionary firsts, our team of experts drives innovation and ingenuity in the industry.
What is Travelport?
Travelport GDS is one of the 'big three' GDS systems, which are used by businesses in the travel industry, including hotels, to distribute inventories to travel agents. By connecting a hotel to a global distribution system, it is possible to increase demand for hotel rooms, resulting in more bookings and more revenue.
Introduction of travel inventory
Travel Industry (Bangladesh Market)
Career Opportunity in Aviation & Travel Industry.
Class 2:
IATA History and Codes.
Aviation Geography (TC Area).
Airlines & Airport code.
Setup GDS (Sabre, Travelport, Amadeus).
Class 3:
Introduction of GDS: Sabre + Travelport or Galileo + Amadeus 3 e-Ticketing Software.
Choose your GDS partners.
Get your GDS login I'D for booking & practice.
Class 4:
Airfare classification.
Practical flight search & booking.
PNR create & modify.
Que share.
Seat select, upgrade & modify.
Class 5:
Special request.
Docs insert & modify.
Milage insert.
Fare rules.
Class 6:
Class 7:
Re-issue fare buildup.
Manual fare buildup.
Ticket exchange.
Re-issue.
Re-issue void.
Partial Re-issue.
Class 8:
Auto refund.
Manual refund.
Full refund.
Partial refund.
refund void.
Class 9:
Manage Booking & PNR identify.
Online check-in.
Capping Check.
Sales report generate.
PNR divide.
Online check-in.
Capping Check.
Sales report generate.
Class 10:
Category Of Travel services (Flight + Hotel + Tour DMC + Visa).
Hotel Booking Service.
Tour DMC Service.
How do you provide visa assistance services?
Class 11:
Travel Blogs.
Content Marketing.
Information share.
Social media & SEO strategy.
Business Tips and Tricks.
How do you do business with IATA?
Class 12:
Current Travel & Tourism Trends.
Future Travel & Tourism Trends.
OTA – Online Travel Agency Business Module (Flight, Hotel, Tour – DMC,  Visa)
Why is OTA (Online Travel Agency) consultancy needed?
After the course completion, we will provide the GDS booking I'D and certification!
Minimum Requirements: Minimum HSC Passed from any discipline. And basic knowledge about Computer.