The complete guide to Hanoi tour in summer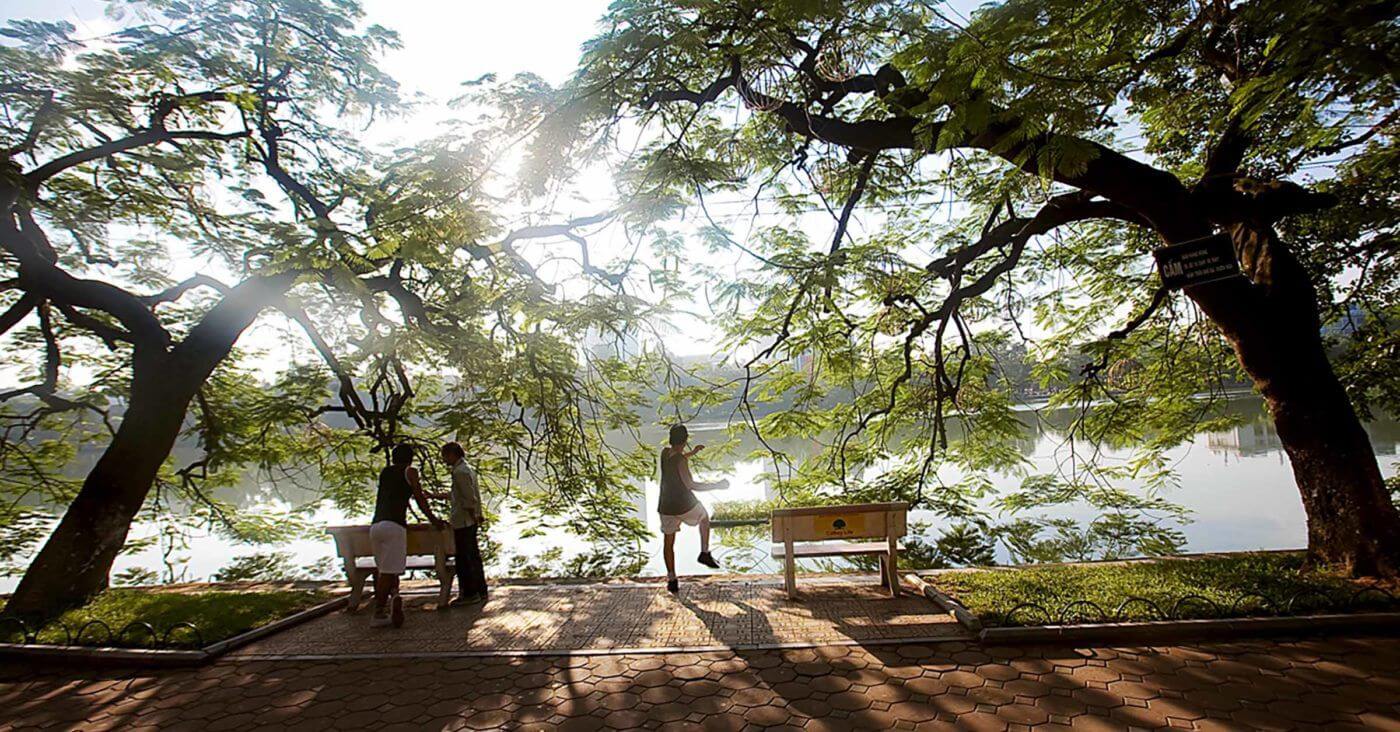 The complete guide to Hanoi tour in summer
Planning to have a Hanoi tour in summer? Let's follow our complete guide of what to do to survive, and handily navigate through your stay and travel for your best experience in an amazing Hanoi tour.
Why Hanoi tour in summer?
Although a Hanoi tour can be made at any time during the year, in summer, this place may be a highlight. This is the favorable season for harvesting and blooming of various vegetation, offering visitors fresh foods and colorful pictures of Hanoi with flowers in the air. Besides, there are many youthful night activities that happen during the summer (as Hanoi in winter carries somewhat of a cozy and chill vibe), and you can enjoy Hanoi's sleepless nights, which may be a fascinating experience in your Hanoi tour.
How Hanoi is in summer
Like the rest of Southeast Asia, summers in Hanoi are hot and humid. The average temperature is about 32°C (90°F). On top of that, it's officially the rainy season as well with July-August seeing the most rainfall. The high temperatures coupled with rain are the main reasons why the summers are considered Hanoi's offseason.
Looking at the bright side, the low season also means that the tariffs are less, and accommodations and bookings easier and more affordable. Just arm with a raincoat and umbrella, expect a sudden rain while catching a few hours of outdoor sunshine, then you are good to go.

Places to visit in Hanoi, the best time to visit
What to do in Hanoi summer tour
Walking by Hoan Kiem Lake

Hanoi tour in summer – Hoan Kiem Lake
As one of the landmarks of Hanoi, Hoan Kiem Lake impresses tourists by tranquility and peacefulness, privately away from the bustling urban life. This is the only lake in Vietnam that is home to an iconic tortoise, that has a preserved specimen of a giant turtle weighing 250kg in Ngoc Son Temple, which sits in the center on a small island. The temple was built to commemorate the 13th-century military leader Tran Hung Dao, famous for his bravery in the battle against the Nguyen dynasty. The lake and the temple are probably the most famous places in Hanoi to rest and admire great views.
Hoan Kiem lake is also very popular among Hanoians as a gathering place for families, nature lovers, sport practitioners, and hangouts. If you want to spend time as the local residents do, show up at 6 am and do exercise, practice Tai Chi or Yoga with them.

Wandering about Hanoi Old Quarter
As being considered the city's business hub and main tourist destination, Hanoi Old Quarter offers the French-colonial architecture, rich food culture, and a long history. In the past, all the tradesmen of a single craft would gather together in one street and many of the Old Quarter's streets were dedicated to a single trade or guild. This practice has survived over the years and it can be fun to walk down each new street to see what wares are sold there. While having a stroll around the Old Quarter, you'll spot temples, gates, and halls dating back centuries. Two sights that show you wildly different sides of Hanoi are the grey, Gothic Saint Joseph Cathedral, and the well-preserved, traditional Ancient House.
You may also notice that the streets are packed with scooters, bicycles, and cars swarming around pedestrians like a school of fish. Visitors have no choice but to face the traffic, however, the experience of exploring the historical area is a must-do and truly well worth it.

Hanoi tour in summer – West Lake
West Lake, or Ho Tay, Hanoi's largest lake, is 15 km in circumference and is surrounded by upper-class suburbs as well as the Tay Ho expatriates district. It is also a very popular destination as it makes for a nice change from the hectic pace of the Old Quarter.
The lake offers an opportunity to visit temples off the beaten path or to enjoy a cup of coffee or a refreshing beer whilst admiring the lake. You can navigate around the lake by bicycle and rest at one of the street-side restaurants.

Hanoi tour in summer – Train Street
One of the most curious and picturesque spots in Hanoi is the city's so-called "train street". In the Old Quarter, train tracks squeeze through some of the city's more narrow streets, with the doors of people's homes opening out onto them. Twice a day a large train makes its way through this residential area, with residents squeezing into doorways to keep clear. Even if you visit when the train isn't there, the neighborhood offers an interesting insight into what life is like for some residents of Hanoi.

Enjoy a Water Puppet show

Hanoi tour in summer – Water Puppet show
The world-famous Thang Long water puppet theater in Hanoi originates from an art form that dates back to the 11th century. Water puppet dancing has become a traditional art, a special creation of Vietnamese people. The tradition of the water puppet theater originates from the time when the rice fields were flooded and the villagers would entertain by standing underwater to the waist with puppets performing on the water. Using large sticks to support puppets, it appears as if they are moving on the water with puppets hidden behind the screen.
Currently, this type has been famous on stages around the world. The performance was accompanied by a Vietnamese orchestra playing traditional music using drums, wooden bells, horns, bamboo flutes, and cymbals. There are also authentic Vietnamese songs that tell the story of the puppets taking place. Most programs recount Vietnamese folklore stories and legends with topics including a humorous rice harvest celebration described in a humorous way.
Most programs have the Legend of the famous King Le's restored sword telling the story of Hoan Kiem Lake and the giant turtle. Live music is indispensable in the show and singers often shout encouraging words to puppets.
Drinking at Bia Hoi (Draft beer) corner

Hanoi tour in summer – Bia Hoi corner
If you're a fan of beer, you'll be thrilled with Vietnam's beer culture. Bia Hoi is known as a street beer and can be found almost everywhere. Some even say Bia Hoi is an insight into the beer scene of Vietnam. It's a daily ritual starting from 4 PM where locals (and tourists) sit on plastic furniture on street corners and drink home-brewed beer. Let's join them.
Taking a side trip to Halong Bay

Hanoi tour in summer – Halong Bay
About three hours east of Hanoi, Ha Long Bay is a UNESCO World Heritage Site and one of the most popular tourist destinations in Vietnam. This 120km-long coastline (literally translated as the "Bay of Descending Dragons") features hundreds of limestone monoliths varying greatly in size and shape rising from the water, with natural stalactite caves, picturesque islands, and unique fishing villages. If you like walking, then you can also enjoy the craggy bluffs that cover the islands of Halong Bay, and also explore isolated bays and dainty inlets.If you prefer to stay in the thick of things, then you can enjoy seafood barbecues, sea kayaking and a whole host of attractions in the main towns such as forts and other monuments.
Day trips to HaLong Bay are possible, but it's best enjoyed on an overnight cruise. If you're spending enough time in Hanoi, then a cruise in HaLong Bay is a must.
What to eat in Hanoi summer tour
Bun Cha

Hanoi tour in summer – Bun Cha
Bun Cha is an authentic dish and very popular in Hanoi, served with grilled fatty pork (Cha) over a plate of white rice noodle (Bun) and herbs with a side dish of dipping sauce.
Among famous Bun Cha restaurants, Huong Lien gained worldwide acclaim when President Obama and Anthony Bourdain came and ate Bun Cha together.
The pork balls are slightly fatty, incredibly juicy, and tasty. Fresh herbs, noodles dipped into the special sauce, makes for an incredible harmony of flavors. The look of the restaurant may not be as luxurious as a high graded one, but the cuisine stays at its best – local, authentic, and delicious. This is a must-eat delicacy in Hanoi.
Pho

Hanoi tour in summer – Pho
Pho is arguably Vietnam's most iconic dish. It's a Vietnamese noodle soup made with four ingredients – clear stock, rice, meat (beef or chicken), and a few herbs. From humble sidewalk stalls to upscale restaurants, you can find it everywhere in Hanoi, though many people believe that the city's best Pho is served here at Pho Thin eatery.
Opened in 1979, the restaurant's owner Nguyen Trong Thin found a novel way to add flavor to classic Pho bo (Pho with beef). Instead of simply boiling the beef, he decided to stir-fry it with garlic before adding it to the soup. This minute innovation added new flavor components to the dish, turning a traditionally gentle stock into a more richly layered broth.
>>The 10 Best Places to Eat in Hanoi
Egg Coffee

Hanoi tour in summer – Egg Cafe
Hanoi is very famous for egg coffee, and it is known to have the original recipe in Vietnam. It's just coffee with a raw egg mixture on top, and it tastes more like yogurt or custard than anything else. There are egg coffee places all over Hanoi, but the best and original place is called Giang Cafe. The building and recipe haven't changed since 1939, and it's quite touristy inside because everyone knows how great it is.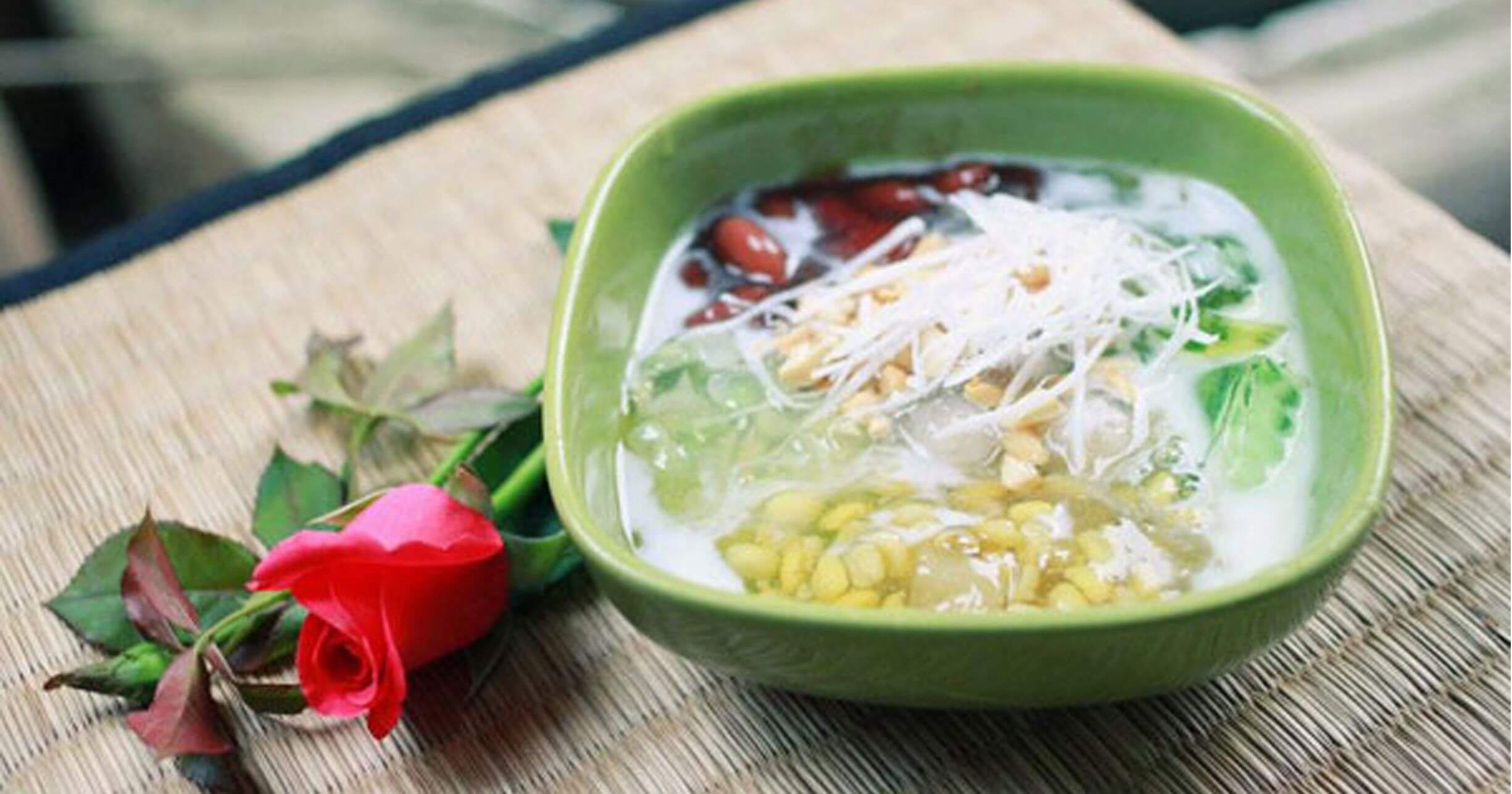 Sweet Soups
Hanoi tour in summer – Sweet soup
Sweet soup is a popular street treat not only in Hanoi but all over Vietnam. Thanks to that regional element, each province puts its own twist to the dessert, making it rather diverse. Hanoi is not an exception, and there are numerous kinds of sweet soups as well as some recommended addresses for tourists to come and try this sweet and unique taste.
Conclusion
As you may see, taking a Hanoi tour in summer is an interesting idea. Let's pack up and expect wonderful things during your stay. In case you are looking for your own travel agent, who can offer a wonderful and hassle-free trip on your Hanoi tour, please feel free to let us know. We always commit our best to make it your once-in-a-lifetime journey.