OTA – Online Travel Agency Website Development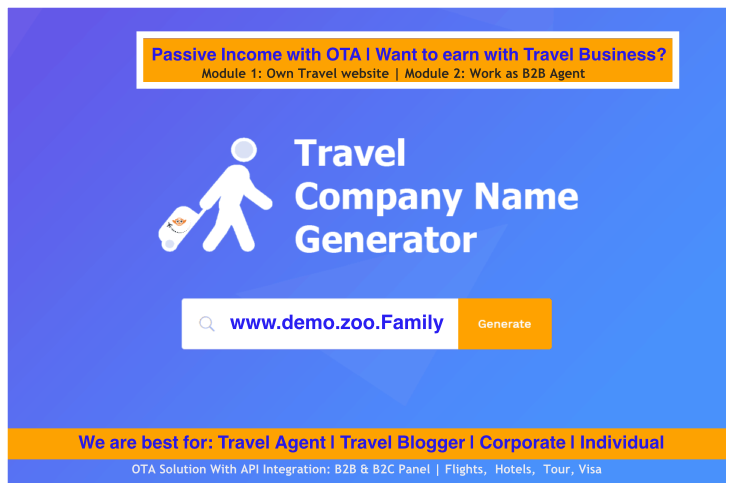 অবিশ্বাস্য মূল্যে OTA – Online Travel Agency Website তৈরি করুন Airlines / GDS & Payment Gateway API ইন্টিগ্রেশন সহ।
Our Travel Website Application Software Features:
B2B & B2C Panel.
Flights, Hotels, Tour, Rails, Visa
API for ticketing Flights and Hotels
যেকোনো API Integration করে দেয়া হবে আপনার চাহিদা অনুযায়ী
সম্পূর্ণ Customize Design
আপনি চাইলে কিছু Inventory আমাদের থেকে নিতে পারেন, আবার কিছু আপনার নিজের inventory থেকে ব্যবহার করতে পারবেন।
বিশেষ দ্রষ্টব্য: আমাদের নিজস্ব ডেভলপমেন্ট এই সফটওয়্যার দিয়ে দীর্ঘ তিন বছরের বেশি অনেক এজেন্সির সাথে আমাদের প্রোডাক্ট গুলো নিয়ে ব্যবসা করে আসতেছি। আমরা শুধুমাত্র কোন সফটওয়্যার ডেভেলপমেন্ট কোম্পানি না, ট্রাভেল এজেন্সি তাই এর ফাংশন গুলো আমরা বাংলাদেশের কাস্টমার চাহিদার উপর নির্ভর করে বানিয়েছি। আশা করি কোন সমস্যা ছাড়াই আপনারা এর ওপর ব্যবসা করতে পারবেন। বিস্তারিত জানতে আমাদেরকে ফোন করুন।
+8801978569299 (WhatsApp)
Development OTA – Online Travel Agency Website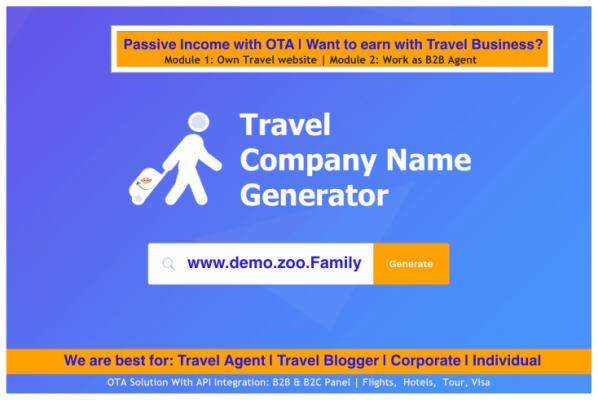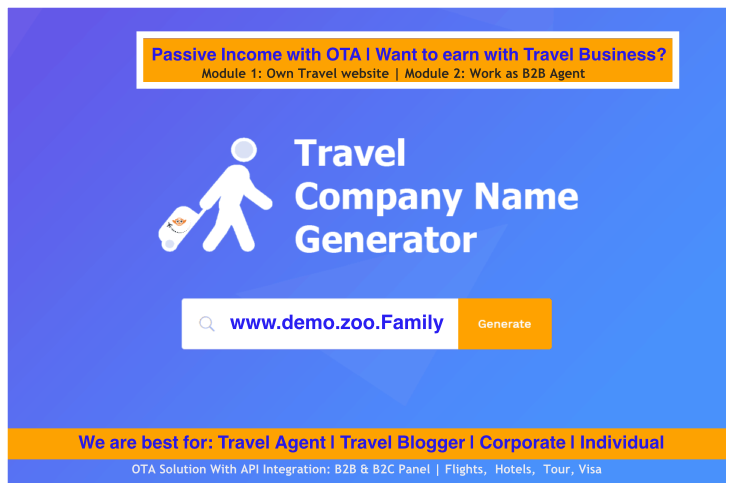 For details, you have to contact us! Demo: https://demo.zoo.family We have 3 packages for your OTA development. To know more click our packages:
Why Choose Our Online Travel Portal & Booking Engine Development Solution!
Our professionals offer the simplest customized travel portal development service. Where we have a huge travel inventory such as – a flight API with 750+ Airlines, Hotels API, Visa & Tour portal. Our travel portal development cost includes the integration of various APIs. We are a unity of travel business with Airlines, Hotels, Travel Agents, and travellers.  With our technical support and solutions, a person or company can earn passively through an OTA. As a NON-Profitable B2B travel business module we serve the global B2B travel marketplace with Travel-Agents, Airlines, and Hotels. And our travel community umbrella is a shade of unity for the aviation and travel industry in Bangladesh, where we support technology, information, travel inventory, and services.
Why We Are A Complete Travel Technology Company?
10+ Successful years of working with travel inventory & technology
A lot of Successfully Completed Projects
Professional and Experienced Team
Good Quality Control with Competitive Price
Dedicated Support Team
Timely Delivery
Global Clients
Following Ethical Process
Technically Strong System
Our OTA Development Features:
We will set up your OTA on your domain or sub-domain.
Flight & Hotel Search engine API setup
Responsive layout with 100% mobile compatibility.
Easy and User-Friendly UI
B2C& B2B  Modules.
Payment gateway of your choice.
Connect your inventory to your own OTA.
Real-Time Availability, Booking & Cancellation
Mark-up and Discount Management
Balance Management System
CRM data and Customer Management System
Agent Management System
Email & SMS Integration
Accounts Management System
Admin And Customer Dashboard
Multi-Currency
Live Chat Integration
Mobile APPS Development Service Included
You can customize your OTA as per your wish
Our organiser is: Airways Office | Travelzoo BD Ltd | zoo Info-Tech | Travel News BD | zooFamily