Saudi Quarantine Package | Saudi Arabia Hotel Quarantine Package
Saudi Institutional Quarantine Packages Available in cities (Jeddah, Riyadh & Dammam). Book your Saudi Arabia Quarantine Packages from Bangladesh.
Requirements:
Valid Passport
Valid Visa
Travel Insurance
Facilities:
7 Days Hotel accommodation
Breakfast, Lunch, Dinner
Airport to hotel transport.
Important notice:
you are booking more than 1 Adult in a room, please ensure below compliance,
1 Adult and 1 Child (Father/Mother + Child)
1 Adult and 2 Children (Father/Mother + 2 Children)
2 Adults in Double Room (Husband & Wife only)
2 Adults and 1 Child (Father+Mother+ 1 Child)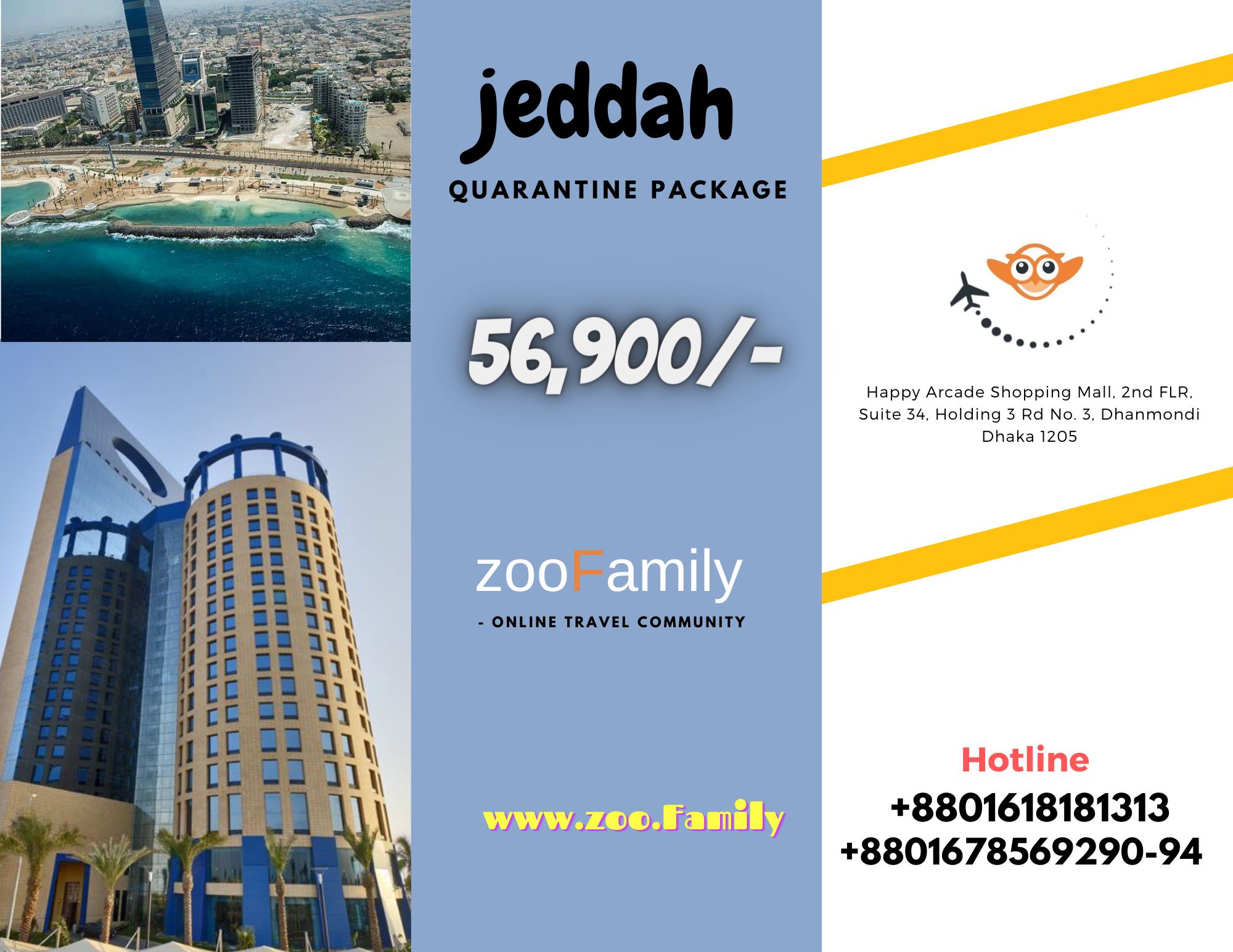 Package Included:
– 6-night hotel stay
– Full-board meal plan
– Airport transportation (one-way)
– 2 PCR tests at your accommodation
– VAT & municipality fee
Looking for other quarantine packages? Contact one of the "zooFamily- Online Travel Community"
+8801618181313 (WhatsApp available) |support@zoo.Family
Quarantine packages are valid for bookings made from 20th May 2021
Quarantine packages are available on all classes of travel
Transit guests will be quarantined in the first arrival destination
Only first-degree family members can stay in the same hotel room
Quarantine packages are valid for any bookings made online, Tele-sales, on CTOs, or with travel agents
Not valid in conjunction with any other promotion or offer
Offers are subject to change without prior notice
Bookings are non-refundable and non-changeable
Saudia terms & conditions apply
Guest must have SAUDIA flight booking, packages are not applicable with other airline bookings
All reservations are on selected hotels only
The packages include transportation from the airport to the hotel
Packages are available on the Saudi Holidays platform
Hotel terms and conditions:
The hotel may request an amount from the guest upon check-in as a deposit, to be returned to the guest in the event that no damage is caused to the room upon check-out.
During the quarantine period, hotel restaurants provide only three meals, "breakfast, lunch and dinner" in the rooms
All three packages include breakfast, lunch, and dinner meals."
Children up to 6 years old can benefit from accommodation and meals for free, by sharing a bed with their parents, with no more than two children in the double room only, kids from 7 to 12 years old can share the bed with their parents and they will be charged as follows: (Amount) SAR. For one child per night, it includes three meals
This information may differ from one hotel to another
Important Notice: Guests must check their eligibility for travel by the concerned countries and obtain the required permits and/or permissions if needed. Read the Requirements for Saudi Arabia here.